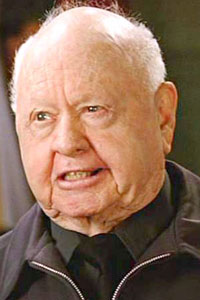 Микки Руни
Mickey Rooney
Актер, Продюсер, Режиссер, Сценарист
23.09.1920 - 07.04.2014
Биография:
Микки Руни родился 23 сентября 1920 г. - умер 7 апреля 2014 г.
Был режиссером фильмов: Дерзкий и смелый (1956), Личная жизнь Адама и Евы (1960), My True Story (1951), участвовал в создании сериала Happy (1960).
Участвовал в написании сценариев к фильмам: Outlaws: The Legend of O.B. Taggart (1994), The Godmothers (1973).
Принимал участие в съемках и озвучивании фильмов: Завтрак у Тиффани (1961), Национальный бархат (1944), Город мальчиков (1938) и др., сериалов: Она написала убийство (1984-1996), Золотые девочки (1985-1992), Скорая помощь (1994-2009) и др., персонажей в мультфильмах: Диснейленд (1954-1990), Симпсоны (1989-2015), Лис и пес (1981) и др.
Выполнял функции продюсера фильмов: Атомный ребенок (1954), The Twinkle in God`s Eye (1955), My Outlaw Brother (1951) и др., сериала The Mickey Rooney Show (1954-1955).
Награды:
Оскар-1940 - номинирован(а) в номинации «Лучшая мужская роль» за фильм «Дети в доспехах»
Оскар-1944 - номинирован(а) в номинации «Лучшая мужская роль» за фильм «Человеческая комедия»
Оскар-1957 - номинирован(а) в номинации «Лучшая мужская роль второго плана» за фильм «Дерзкий и смелый»
Оскар-1980 - номинирован(а) в номинации «Лучшая мужская роль второго плана» за фильм «Черный скакун»
Золотой глобус-1964 - победитель в номинации «Лучший актер мини-сериала или фильма на ТВ» за фильм «Микки»
Золотой глобус-1982 - победитель в номинации «Лучший актер мини-сериала или фильма на ТВ» за фильм «Билл»
Фильмография:
Актер
Driving Me Crazy (2012) ... Mr. Cohen

Johnny Blue (2011) ... Пит
Маппеты / The Muppets (2011) ... Smalltown Resident

The Voices from Beyond (2010) ... Johnny O`Hara
Здесь и сейчас / Now Here (2010) ... Swifty

Bamboo Shark (2009) ... Brooks

Saddle Up with Dick Wrangler & Injun Joe (2009) ... Owen Blumenkrantz

Джеральд / Gerald (2009) ... The Doctor

A Miser Brothers` Christmas (2008) ... Santa Claus

Above the Line (2008) (сериал) ... Mickey

Lost Stallions: The Journey Home (2008) ... Chief

Meurtres à l`Empire State Building (2008) ... Mickey Silver

Wreck the Halls (2008) ... Santa

Behind the Director`s Son`s Cut (2007) ... Erik`s Grandfather

The Greatest Show Ever (2007) ... The Boss

The Yesterday Pool (2007) ... Trobadar

Слишком много рождества / A Christmas Too Many (2007) ... Grandpa

The Thirsting (2006) ... Savy

To Kill a Mockumentary (2006) ... Макс
Ночь в музее / Night at the Museum (2006) ... Gus

Последний конфедерат: История Роберта Адамса / Strike the Tent (2005) ... David McCord
Счастливый Эльф / The Happy Elf (2005) ... Santa (voice)
Рай / Paradise (2004) ... Simon/Henry Sr.
Убить Мокьюментари / To Kill a Mockumentary (2004) ... Max

Topa Topa Bluffs (2002) ... Prospector
Леди и бродяга 2: Приключения Шалуна / Lady and the Tramp II: Scamp`s Adventure (2001) ... Sparky

Любовь по интернету / Internet Love (2000)
Фантом Мегаплекса / Phantom of the Megaplex (2000) ... Movie Mason

Holy Hollywood (1999)

The First of May (1999) ... Boss Ed
Куриный бульон для души / Chicken Soup for the Soul (1999-2000) (сериал) ... Old Man

Тихая гавань / Safe Harbor (1999) (сериал) ... Art Sumski

Mike Hammer, Private Eye (1998) (сериал) ... Lucius

The Face on the Barroom Floor (1998)
Бэйб: Поросенок в городе / Babe: Pig in the City (1998) ... Fugly Floom, the Speechless Man in Hotel
Звери и хозяин заставы / Animals with the Tollkeeper (1998) ... Tollkeeper
Истории из моего детства / Stories from My Childhood (1998) (сериал) ... Oleeloquoia

Майкл Кэйл против всемирной службы новостей / Michael Kael contre la World News Company (1998) ... Griffith

Killing Midnight (1997) ... Professor Mort Sang

Kings of the Court (1997)

Клео: Зов сердца / Kleo the Misfit Unicorn (1997) (сериал) ... Talbut

Конан / Conan (1997) (сериал) ... Gobe
Реальные пацаны / Boys Will Be Boys (1997) ... Wellington

Вспоминая радио WENN / Remember WENN (1996-1998) (сериал) ... Mr. Hardy
Brothers` Destiny / Brothers` Destiny (1995) ... Father Flanagan

Making Waves (1994) ... Gabriel

Outlaws: The Legend of O.B. Taggart / Outlaws: The Legend of O.B. Taggart (1994) ... O.B. Taggart

Месть красного барона / Revenge of the Red Baron (1994) ... Grandpa Spencer
Скорая помощь / ER (1994-2009) (сериал) ... Dr. George Bikel
Кунг-фу: Возрождение легенды / Kung Fu: The Legend Continues (1993-1997) (сериал) ... Harold Lang

Jack`s Place (1992) (сериал) ... Harry Burton

Беззаботная жизнь / La vida láctea (1992) ... Barry Reilly
Волшебное путешествие / Die Abenteuer von Pico und Columbus (1992) ... Голос за кадром

Легенда волчьей горы / The Legend of Wolf Mountain (1992) ... Pat Jensen
На пределе сил / Maximum Force (1992) ... Chief of Police

Сладкое правосудие / Sweet Justice (1992) ... Zeke
Игрок возвращается: Удача вытягивания карт / The Gambler Returns: The Luck of the Draw (1991) ... The Director
Мои герои всегда были ковбоями / My Heroes Have Always Been Cowboys (1991) ... Junion, Jesse`s Roommate at Retirement Home

Тихая ночь, смертельная ночь 5: Создатель игрушек / Silent Night, Deadly Night 5: The Toy Maker (1991) ... Joe Petto

Home for Christmas (1990) ... Elmer

The Black Stallion (1990-1993) (сериал) ... Henry Dailey
Симпсоны / The Simpsons (1989-2018) (сериал) ... Играет сам себя
Эрик Викинг / Erik the Viking (1989) ... Erik`s Grandfather
Пырей / Bluegrass (1988) ... John Paul Jones

Полный дом / Full House (1987-1995) (сериал) ... Mr. Dreghorn

Lightning, the White Stallion (1986) ... Barney Ingram

Детектив Майк Хаммер: Возвращение Майка Хаммера / The Return of Mickey Spillane`s Mike Hammer (1986) ... Jack Bergan

Маленькие разведчики / Little Spies (1986) ... James Turner

Заботливые медвежата / The Care Bears Movie (1985) ... Mr. Cherrywood
Золотые девочки / The Golden Girls (1985-1992) (сериал) ... Rocco

В тиши ночной / It Came Upon the Midnight Clear (1984) ... Mike Halligan
Она написала убийство / Murder, She Wrote (1984-1996) (сериал) ... Matt Cleveland
Американские мастера / American Masters (1983-2009) (сериал) ... Danny Churchill, Jr.

Билл: Сам по себе / Bill: On His Own (1983) ... Bill Sackter

One of the Boys (1982) (сериал) ... Oliver Nugent

Император Перу / The Emperor of Peru (1982) ... The Railway Engineer

Leave `em Laughing (1981) ... Jack Thum

Билл / Bill (1981) ... Bill Sackter

Креол / Creole (1981) ... Голос за кадром
Лис и пес / The Fox and the Hound (1981) ... Adult Tod

My Kidnapper, My Love (1980) ... The Maker

O`Malley (1980) ... Mike O`Malley
CBS Library (1979-1983) (сериал) ... Narrator - Creole

Donovan`s Kid (1979) ... Old Bailey

Rudolph and Frosty`s Christmas in July (1979) ... Santa Claus

Арабские приключения / Arabian Adventure (1979) ... Daad El Shur
Черный скакун / The Black Stallion (1979) ... Henry Dailey
Магия Лэсси / The Magic of Lassie (1978) ... Gus

A Year at the Top (1977) (сериал) ... Uncle Mickey Durbin
Дракон Пита / Pete`s Dragon (1977) ... Lampie
Лодка любви / The Love Boat (1977-1986) (сериал) ... Santa Claus
Принцип домино / The Domino Principle (1977) ... Spiventa

Найти девушку / Find the Lady (1976) ... Trigger

Juego sucio en Panamá (1975) ... Papa Joe

Шарло в Гонконге / Bons baisers de Hong Kong (1975) ... Marty

Thunder County (1974) ... Gas Station Attendant
Возвращение в страну Оз / Journey Back to Oz (1974) ... The Scarecrow

Год без Санты / The Year Without a Santa Claus (1974) ... Santa Claus

Мужчина Рейчел / Rachel`s Man (1974) ... Laban

The Godmothers (1973) ... Rocky Mastrasso
Evil Roy Slade / Evil Roy Slade (1972) ... Nelson Stool

Fol-de-Rol (1972) ... The Executioner/Noah
Ричард / Richard (1972) ... Guardian Angel

Целлюлоза / Pulp (1972) ... Preston Gilbert

Манипулятор / The Manipulator (1971) ... B.J. Lang

В город приехал Санта-Клаус! / Santa Claus Is Comin` to Town (1970) ... Kris
Дэн Огэст / Dan August (1970-1971) (сериал) ... Kenny O`Malley

Ковбои округа Калико / Cockeyed Cowboys of Calico County (1970) ... Indian Tom
Ночная галерея / Night Gallery (1970-1973) (сериал) ... August Kolodney

80 шагов к Ионе / 80 Steps to Jonah (1969) ... Wilfred Bashford
Комик / The Comic (1969) ... Martin `Cockeye` Van Buren

Необычайный моряк / The Extraordinary Seaman (1969) ... Cook 3/C W. J. Oglethorpe
Вена / Vienna (1968)
Наименование игры / The Name of the Game (1968-1971) (сериал) ... Les
Смывайся! / Skidoo (1968) ... George `Blue Chips` Packard

Ready and Willing / Ready and Willing (1967)

The Jean Arthur Show (1966) (сериал) ... Eddie Julian

Архидьявол / L`arcidiavolo (1966) ... Adramalek

Засада в заливе / Ambush Bay (1966) ... Gunnery Sgt. Ernest Wartell
24 часа для убийства / Twenty-Four Hours to Kill (1965) ... Norman Jones
Как справиться с диким бикини / How to Stuff a Wild Bikini (1965) ... Peachy Keane

Микки / Mickey (1964-1965) (сериал) ... Mickey Grady

Тайное вторжение / The Secret Invasion (1964) ... Terence Scanlon - Demolition
Арест и судебное разбирательство / Arrest and Trial (1963-1964) (сериал) ... Hoagy Blair
Беглец / The Fugitive (1963-1967) (сериал) ... Charlie Paris
Боб Хоуп представляет / Bob Hope Presents the Chrysler Theatre (1963-1967) (сериал) ... George M. Cohan
Театр создателей саспенса / Kraft Suspense Theatre (1963-1965) (сериал) ... Sheriff Williams
Это безумный, безумный, безумный, безумный мир / It`s a Mad Mad Mad Mad World (1963) ... Ding Bell
В бою / Combat! (1962-1967) (сериал) ... Harry White
Реквием по тяжеловесу / Requiem for a Heavyweight (1962) ... Army

Checkmate (1961) (сериал) ... Steve Margate

Everything`s Ducky (1961) ... Kermit `Beetle` McKay
Frontier Circus / Frontier Circus (1961-1962) (сериал) ... Arnold

The Investigators (1961) (сериал) ... Jack Daley
Завтрак у Тиффани / Breakfast at Tiffany`s (1961) ... Mr. Yunioshi

Король яростных 20-х / King of the Roaring 20`s - The Story of Arnold Rothstein (1961) ... Johnny Burke
Премьера Алкоа / Alcoa Premiere (1961-1963) (сериал) ... Babe Simms
Шоу Дика Пауэлла / The Dick Powell Show (1961-1963) (сериал) ... Augie Miller / ... (4 episodes, 1961-1963)
Checkmate (1960-1962) (сериал) ... Steve Margate

Platinum High School (1960) ... Steven Conway

Личная жизнь Адама и Евы / The Private Lives of Adam and Eve (1960) ... Nick Lewis / The Devil

Большой управляющий / The Big Operator (1959) ... Little Joe Braun

Последняя миля / The Last Mile (1959) ... John `Killer` Mears
Сыромятная плеть / Rawhide (1959-1966) (сериал) ... Pan Macropolous

Хеннеси / Hennesey (1959-1962) (сериал) ... Richard Winslow

A Nice Little Bank That Should Be Robbed (1958) ... Gus Harris

Andy Hardy Comes Home (1958) ... Andrew `Andy` Hardy
Обнаженный город / Naked City (1958-1963) (сериал) ... George Bick

The Comedian (1957) ... Sammy Hogarth
Караван повозок / Wagon Train (1957-1961) (сериал) ... Samuel T. Evans

Малыш Нельсон / Baby Face Nelson (1957) ... Lester M. `Baby Face Nelson` Gillis

Мистер Бродвей / Mr. Broadway (1957) ... George M. Cohan

Операция Бешеный шар / Operation Mad Ball (1957) ... MSgt. Yancy Skibo

Пиноккио / Pinocchio (1957) ... Pinocchio
Театр Алкоа / Alcoa Theatre (1957-1958) (сериал) ... Эдди

Magnificent Roughnecks (1956) ... Frank Sommers
Дерзкий и смелый / The Bold and the Brave (1956) ... Dooley
Театр 90 / Playhouse 90 (1956-1960) (сериал) ... Sammy Hogarth

Фрэнсис в доме с приведениями / Francis in the Haunted House (1956) ... David Prescott

The Twinkle in God`s Eye (1955) ... Rev. William Macklin II

The Mickey Rooney Show (1954-1955) (сериал) ... Mickey Mulligan

Атомный ребенок / The Atomic Kid (1954) ... Barnaby `Blix` Waterberry
Диснейленд / Disneyland (1954-1990) (сериал) ... Old Bailey
Мосты у Токо-Ри / The Bridges at Toko-Ri (1954) ... Mike Forney

Поездка по кривой дороге / Drive a Crooked Road (1954) ... Eddie Shannon
Продюсерская витрина / Producers` Showcase (1954-1957) (сериал)

A Slight Case of Larceny (1953) ... Augustus `Geechy` Cheevers

Все на берег / All Ashore (1953) ... Francis `Moby` Dickerson
Вход воспрещен / Off Limits (1953) ... Herbert Tuttle
Театр «Дженерал Электрик» / General Electric Theater (1953-1962) (сериал) ... Al Roberts

Celanese Theatre (1952) (сериал)

Sound Off (1952) ... Mike Donnelly

My Outlaw Brother (1951) ... J. Dennis `Denny` O`Moore
Стрип / The Strip (1951) ... Stanley Maxton
Театр звезд Шлица / Schlitz Playhouse of Stars (1951-1959) (сериал) ... Red McGivney
Шоу Рэда Скелтона / The Red Skelton Show (1951-1971) (сериал) ... Snorkel

He`s a Cockeyed Wonder (1950) ... Freddie Frisby

Зыбучий песок / Quicksand (1950) ... Daniel `Dan` Brady

Огненный шар / The Fireball (1950) ... Johnny Casar

Большое колесо / The Big Wheel (1949) ... Billy Coy

Летние каникулы / Summer Holiday (1948) ... Richard Miller

Песня в сердце / Words and Music (1948) ... Lorenz Hart
Убийца МакКой / Killer McCoy (1947) ... Tommy McCoy/Killer McCoy

Love Laughs at Andy Hardy (1946) ... Andrew `Andy` Hardy

Andy Hardy`s Blonde Trouble (1944) ... Andrew `Andy` Hardy
Национальный бархат / National Velvet (1944) ... Mi Taylor

Сумасшедшая девчонка / Girl Crazy (1943) ... Danny Churchill, Jr.
Человеческая комедия / The Human Comedy (1943) ... Homer Macauley

Personalities (1942) ... Andy Hardy

Двойная жизнь Энди Харди / Andy Hardy`s Double Life (1942) ... Andy Hardy

Ухаживание Энди Харди / The Courtship of Andy Hardy (1942) ... Andrew `Andy` Hardy

Янки в Итоне / A Yank at Eton (1942) ... Timothy Dennis

Andy Hardy`s Private Secretary (1941) ... Andrew `Andy` Hardy

Life Begins for Andy Hardy (1941) ... Andrew `Andy` Hardy

Мужчины из «Города мальчиков» / Men of Boys Town (1941) ... Whitey Marsh
Юнцы на Бродвее / Babes on Broadway (1941) ... Tommy `Tom` Williams

Andy Hardy`s Dilemma: A Lesson in Mathematics... and Other Things (1940) ... Andy Hardy
Играйте, музыканты / Strike Up the Band (1940) ... James `Jimmy` Connors

Молодой Том Эдисон / Young Tom Edison (1940) ... Thomas Alva `Tom` Edison

Энди Харди встречает дебютантку / Andy Hardy Meets Debutante (1940) ... Andrew `Andy` Hardy

Loews Christmas Greeting (The Hardy Family) (1939) ... Andy Hardy

Гарди в седле / The Hardys Ride High (1939) ... Andrew `Andy` Hardy
Дети в доспехах / Babes in Arms (1939) ... Mickey Moran

Приключения Гекельберри Финна / The Adventures of Huckleberry Finn (1939) ... Huckleberry Finn

Судья Харди и сын / Judge Hardy and Son (1939) ... Andrew `Andy` Hardy
У Энди Харди началась весенняя лихорадка / Andy Hardy Gets Spring Fever (1939) ... Andrew `Andy` Hardy

Judge Hardy`s Children (1938) ... Andrew `Andy` Hardy

Out West with the Hardys (1938) ... Andrew `Andy` Hardy
Город мальчиков / Boys Town (1938) ... Whitey Marsh

Из одной конюшни / Stablemates (1938) ... Michael `Mickey`

Лорд Джефф / Lord Jeff (1938) ... Terry O`Mulvaney

Любовь находит Энди Харди / Love Finds Andy Hardy (1938) ... Andrew `Andy` Hardy

Любовь – это головная боль / Love Is a Headache (1938) ... Mike` OToole
Попридержи этот поцелуй / Hold That Kiss (1938) ... Chick Evans

A Family Affair (1937) ... Andy Hardy

Hoosier Schoolboy (1937) ... Shockey Carter

Вы молоды только однажды / You`re Only Young Once (1937) ... Andrew `Andy` Hardy

Жизнь, любовь и учеба / Live, Love and Learn (1937) ... Jerry Crump
Корабль рабов / Slave Ship (1937) ... Swifty
Отважные капитаны / Captains Courageous (1937) ... Dan Troop

Чистокровки не плачут / Thoroughbreds Don`t Cry (1937) ... Timmie `Tim` Donovan

Down the Stretch (1936) ... `Snapper` Sinclair, aka Fred St. Clair
Дьявол в юбке / The Devil Is a Sissy (1936) ... `Gig` Stevens
Стерва / Riffraff (1936) ... Джимми

Юный лорд Фаунтлерой / Little Lord Fauntleroy (1936) ... Dick Tipton
Ах, дикость! / Ah, Wilderness! (1935) ... Tommy Miller
Безрассудный / Reckless (1935) ... Эдди

Маленький друг / The Healer (1935) ... Джимми
Рандеву / Rendezvous (1935) ... Country Boy

Руководитель округа / The County Chairman (1935) ... Freckles
Сон в летнюю ночь / A Midsummer Night`s Dream (1935) ... Puck or Robin Goodfellow, a Fairy

Beloved (1934) ... Tommy, a Violin Student

Blind Date (1934) ... Freddie Taylor

I Like It That Way (1934) ... Messenger Boy

Love Birds (1934) ... Gladwyn Tootle

Mickey`s Medicine Man (1934) ... Mickey McGuire

Mickey`s Minstrels (1934) ... Mickey McGuire

Mickey`s Rescue (1934) ... Mickey McGuire

The Lost Jungle (1934) ... Mickey, lead boy at circus [Ch.1]

The Lost Jungle (1934) ... Boy with Dog

Upperworld / Upperworld (1934) ... Джерри
Манхэттенская мелодрама / Manhattan Melodrama (1934) ... Blackie as a boy

Полугрешник / Half a Sinner (1934) ... Willie Clark
Смерть на бриллианте / Death on the Diamond (1934) ... Mickey
Убежище / Hide-Out (1934) ... William `Willie` Miller
Цепи / Chained (1934) ... Boy Swimmer
Broadway to Hollywood / Broadway to Hollywood (1933) ... Ted Hackett III, as a child

Mickey`s Ape Man (1933) ... Mickey McGuire

Mickey`s Big Broadcast (1933) ... Mickey McGuire

Mickey`s Covered Wagon (1933) ... Mickey McGuire

Mickey`s Disguises (1933) ... Mickey McGuire

Mickey`s Race (1933) ... Mickey McGuire

Mickey`s Tent Show (1933) ... Mickey McGuire

Mickey`s Touchdown (1933) ... Mickey McGuire

The Big Chance (1933) ... Arthur Wilson

The Chief (1933) ... Willie, Boy Throwing Firecracker

Большая клетка / The Big Cage (1933) ... Jimmy O`Hara

Жизнь Джимми Долана / The Life of Jimmy Dolan (1933) ... Freckles

Мир меняется / The World Changes (1933) ... Otto Peterson, as a Child

Fast Companions (1932) ... Midge

Mickey`s Big Business (1932) ... Mickey McGuire

Mickey`s Busy Day (1932) ... Mickey McGuire

Mickey`s Charity (1932) ... Mickey McGuire

Mickey`s Golden Rule (1932) ... Mickey McGuire

Mickey`s Holiday (1932) ... Mickey McGuire

Mickey`s Travels (1932) ... Mickey McGuire

My Pal, the King (1932) ... King Charles V

Officer Thirteen (1932) ... Buddy Malone

Sin`s Pay Day (1932) ... Chubby Dennis
Высокая скорость / High Speed (1932) ... Buddy Whipple

Чудовище города / The Beast of the City (1932) ... Mickey Fitzpatrick

Mickey`s Crusaders (1931) ... Mickey McGuire

Mickey`s Diplomacy (1931) ... Mickey McGuire

Mickey`s Helping Hand (1931) ... Mickey McGuire

Mickey`s Rebellion (1931) ... Mickey McGuire

Mickey`s Sideline (1931) ... Mickey McGuire

Mickey`s Stampede (1931) ... Mickey McGuire

Mickey`s Thrill Hunters (1931) ... Mickey McGuire

Mickey`s Wildcats (1931) ... Mickey McGuire

The Farmer (1931) ... Oswald

Africa (1930) ... Oswald

Mickey the Romeo (1930) ... Mickey McGuire

Mickey`s Bargain (1930) ... Mickey McGuire

Mickey`s Champs (1930) ... Mickey McGuire

Mickey`s Luck (1930) ... Mickey McGuire

Mickey`s Master Mind (1930) ... Mickey McGuire

Mickey`s Merry Men (1930) ... Mickey McGuire

Mickey`s Musketeers (1930) ... Mickey McGuire

Mickey`s Warriors (1930) ... Mickey McGuire

Mickey`s Whirlwinds (1930) ... Mickey McGuire

Mickey`s Winners (1930) ... Mickey McGuire

Amature Nite (1929) ... Oswald

Mickey`s Big Moment (1929) ... Mickey McGuire

Mickey`s Brown Derby (1929) ... Mickey McGuire

Mickey`s Explorers (1929) ... Mickey McGuire

Mickey`s Great Idea (1929) ... Mickey McGuire

Mickey`s Initiation (1929) ... Mickey McGuire

Mickey`s Last Chance (1929) ... Mickey McGuire

Mickey`s Menagerie (1929) ... Mickey McGuire

Mickey`s Midnite Follies (1929) ... Mickey McGuire

Mickey`s Mix-Up (1929) ... Mickey McGuire

Mickey`s Northwest Mounted (1929) ... Mickey McGuire

Mickey`s Strategy (1929) ... Mickey McGuire

Mickey`s Surprise (1929) ... Mickey McGuire

Ozzie of the Circus (1929) ... Oswald

Mickey in Love (1928) ... Mickey McGuire

Mickey the Detective (1928) ... Mickey McGuire

Mickey`s Athletes (1928) ... Mickey McGuire

Mickey`s Babies (1928) ... Mickey McGuire

Mickey`s Big Game Hunt (1928) ... Mickey McGuire

Mickey`s Little Eva (1928) ... Mickey McGuire

Mickey`s Movies (1928) ... Mickey McGuire

Mickey`s Nine (1928) ... Mickey McGuire

Mickey`s Parade (1928) ... Mickey McGuire

Mickey`s Rivals (1928) ... Mickey McGuire

Mickey`s Triumph (1928) ... Mickey McGuire

Mickey`s Wild West (1928) ... Mickey McGuire

Микки в школе / Mickey in School (1928) ... Mickey McGuire

Mickey`s Battle (1927) ... Mickey McGuire

Mickey`s Circus (1927) ... Mickey McGuire

Mickey`s Eleven (1927) ... Mickey McGuire

Mickey`s Pals (1927) ... Mickey McGuire

Orchids and Ermine (1927) ... Bit Part

Not to Be Trusted (1926) ... A midget
Продюсер
Holding God (2011)

The Yesterday Pool (2007)

Jaguar (1956)

The Twinkle in God`s Eye (1955)

The Mickey Rooney Show (1954-1955) (сериал)

Атомный ребенок / The Atomic Kid (1954)

My Outlaw Brother (1951)
Режиссер
Happy (1960) (сериал)

Личная жизнь Адама и Евы / The Private Lives of Adam and Eve (1960)

My True Story (1951)
Сценарист
Outlaws: The Legend of O.B. Taggart / Outlaws: The Legend of O.B. Taggart (1994)

The Godmothers (1973)